The strange world of eBay
I've been buying a few things on eBay, and some of the lots can only be described as
interesting
. It started with a nail gun I needed to help build the workshop on the back of my garage. Now a new one is over $300, and I knew the exact model and brand I wanted (in fact I still had nails left over from building the garage), and it turns out that Hitachi nailers are the preferred brand online as well. There's quite a few sellers and buyers for it.
Now most items were going for $120-$150 (with some variation due to reputation, shipping and "AS IS"), but it also turned out that labeling had an impact. Not clearly labelling an item gained you less buyers, and mis-labeling could really sink you. See there's the NR83A full head nailer, then the NR83AA clipped head nailer (avoid), and the NV83A coil gun nailer, NR83A2 (newer version of the 83A), NR83A2S (newest version with single shot safety--double nailing with the original gun is something you have to practise to avoid), NR90AC2 strip nailer, NV50AP roof nailer, etc etc. You get the idea.
So one listing was for a NV83A and didn't have a picture in the category list, but the picture in the item listing itself was clearly a NR83A. Needless to say, I was all over it. When the dust settled, I had a used nail gun for $73. Not bad if you don't count the week of surfing and sniping.
So, having gotten my toes wet, I decided to check out other items online and see what I could get. Right about this time, Max had a birthday, and one our friends gave him some LEGOs. Now these things are expensive (I should know, I have a bunch from when I was a kid), but I thought to myself, here's another opportunity for eBay. Turns out they have a lot of LEGOs on eBay. Like thousands and thousands of items for sale (ranging from ten cents to thousands of dollars--some people take this LEGO toy stuff pretty seriously). Anyways, I narrowed my search down to just bulk bricks and lots. Here, Items range anywhere from a few speciality bits to hundreds of pounds of bulk LEGOs.

My first buy was great, I started small with a lot of six pounds. It was a great little lot with lots of cool pieces, tires, etc. Very happy. My next set was 16lbs and not as nice. A lot of knockoff blocks and a lot of bent pieces, about 3/4 of a pound. I groused to the seller a bit about it, but decided to just let it be.
Moving up the scale, my next set was 30 pounds.
The LEGO pieces were in pretty good shape (in comparison to the previous lot), but as I started sorting through the pieces (to remove really tiny bits that Zakary was likely to try and eat), what was interesting was not the quantity of non-LEGO bits, but the variety of things I found. My junk pile ended up including:
Toys and toy parts:
mega blocks, tyco blocks, erector set (plastic), action figures, model boat parts (destroyers & aircraft carriers), happy meal toys, battery compartment door, mini matchbox truck, tiddly winks, rubber snake, rubber knife, plastic bolts, polished rocks, beads, buttons, dice, chess pieces, magnet checkers
Other kids materials
minimag flashlight parts, plastic flags, pull chain, caps (round and strip), necklace, coins, ribbon, screwdriver, crayons, chalk, drawing stylus, pencil eraser, nail, popsicle stick, hair barettes paper clip, safety pin, rubber band, ring, grommets, election pins, pencil
Trash
pet hair, paper scraps, cloth pockets, tinfoil, leaves, driftwood, sticks, peanuts, walnut shell, pet food, pringles lid, film cap, popcorn kernels, bendy straw, batteries: (AA, button, lithium), toothpicks, matches, string
Now, Max is allergic to peanuts, so I'm glad I went through all these pieces. Am I upset about all the junk? I think sellers could do a better job, especially
dreynold
who took the time to lay this whole set out in detail and take pictures of the pieces. But its probably an unwritten rule that large lots come with 5-10% junk, and you just live with it. Besides, Max actually liked a bunch of these
extras
, and added them to his
treasures
colleciton.
So is that it? I mean, there's over 55 pounds to play with at this point (its a little trick to dig through all of them). Well, no. There's another 60lbs on the way from Atlanta, if they ever get around to shipping it. Another unwritten rule of eBay is 1 out of 3 times the seller will be plunged into the middle of some family emergency right in the middle of your auction. Its kind of like the rule that every time I apply for a mortgage, the adjuster (or his supervisor or someone else who has to sign off on loan) goes on vacation for two weeks right in the middle of my application being processed. Max will just have to get by with what he has for the time being (poor guy).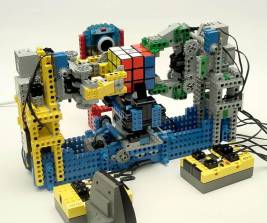 So what could you possibly need hundreds of pounds of legos for? Well there are LEGO clubs out there, like Lugnut and rtlToronto who do things like build entire train layouts and LEGO cities. And there's the annual BrickFest convention where you can get even more crazy ideas. Some of these guys must have thousands of pounds:

(Select view image for larger version)