My sister has started teaching high school chemistry and physics (a scary thought since she never took physics in school), and she find the books less than inspiring (as did I when I was in school). The only reason I liked science was because I was good at it (and didn't have to study much until I started flunking special relativity in college), but there's actually a lot of interesting stuff about.
If some how I was stuck teaching high school science, the first thing I would do is throw out most of the textbook and start talking about cool things that you can learn from science:
Why clouds float (they don't really, they just fall really slowly)
The importance of Tungsten.
What Aerogels are, and why critical pressure is ahem, critical, to fabrication.
Liquid nitrogen, and all the fun things you can do with it.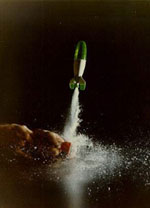 Making and building water rockets, either for fun or competition. Impressively there's at least two national competitions, one of which was just this weekend.